These are the services An Ad Guy offers. By taking a more practical approach to your marketing/advertising needs, An Ad Guy can cover just what you need at the moment or all of your needs.
Our scope covers everything that expresses your key message, the words, the visuals, your online presence, your broadcast communications, and the planning for how they all work together.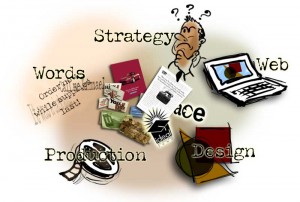 Whether you need help with just one tiny element of this picture or the whole thing, An Ad Guy is here for you.
Those who fail to plan plan to fail. Strategic planning is crucial for any effort your business is about to undertake, small or large. Why? Because strategic planning is the same as aiming. If you're not careful to aim at your target, or even identify your target, you're guaranteed to miss. [Read more →]
Web development is more than web design. Nowadays, it's not enough to have a great looking website. It has to be a hub for your e-commerce abilities. If yours is a large company, you may already have this in place. But if yours is a smaller business, putting together an e-commerce site may seem too daunting. It's not. You can be up and running in a very short amount of time, depending on what you want or need. Just ask. [Read more →]
Technology has made broadcast advertising much more accessible. Whether you need a local radio or TV commercial or a modest corporate video for your next trade show or website, An Ad Guy can produce that for you or even find the right resources for you. We're good at a lot, but some people are better at very specific things. Part of being smart ad folks means knowing that we don't have to do everything. [Read more →]
There are a lot of misconceptions about writing for advertising, or copywriting as it's correctly termed. One of the most prevalent is that long copy is bad, short copy is good. That's like saying longer pants are better than shorter pants. Isn't it more important to find what fits? Long or short, copy should get to the point quickly, do so eloquently, and leave you with a clear course of action. At the same time, good copy should build a bond, a relationship, with the reader. After all, they're your customer. [Read more →]
A picture is worth a thousand words, right? Well, good design is the intelligent use of visual elements to communicate concepts effectively. Those elements can be logos, photographs, typography, or layouts. The layout of a print ad or a web page not only says a lot about your brand, it literally and directly presents your information to your reader, your customer. [Read more →]